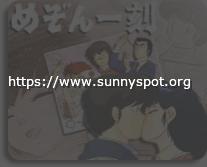 Maison Ikkoku is my favourite Takahashi's manga. I found this story more realistic than others, I was charmed by the care in describing some elements of a scene, apparently unnecessary, but that globally gives more realism.
Maison Ikkoku is a romantic comedy as most of all Takahashi's stories. There isn't a simply sequence of distinct events closed into a beginning and an ending episode, Maison Ikkoku is a real story described day by day without forgetting some funny glitters.

This is an entry from Alan Takahashi's "Anime Pocket Guide":

Godai is a ronin (i.e. someone who's failed university entrance exams) living in room #5 of a run down apartment house called Maison Ikkoku. Among the other residents are the nosy Ichinose (room #1), the sexy Akemi Roppongi (#6), and the mysterious Yotsuya (#4). The others are given to having wild parties which makes it difficult for Godai to study. Into this mayhem comes the recently widowed Kyoko as the new live-in manager. Godai falls for her, but doesn't have the nerve to tell her. The show follows their developing relationship amid the crazy goings on at Maison Ikkoku. A romantic comedy by Rumiko Takahashi.
Ikkoku-kan is an old building in Tokeizaka which was built before World War II.
There are a total of six rooms plus the manager's room. It is owned by the Otonashi family.
Each room has a small kitchenette, but there is only one bathroom with a sink and lavatory.
There is no shower in the building, so the residents must go to a public bath to bathe or shower.
Rooms one to three are on the first floor, and four to six are on the second floor, with room five directly above room two.
There is a huge crack in the wall between room four's closet and room five which allows Yotsuya (the occupant of room four) to crawl into room five whenever he wants to.
There is also a small peephole in the wall between room five's closet and room six, but it is now covered.
The attic is not occupied, but it has been in the past.
The clock is not supposed to be working, but one night the bell of the clock did ring, on the night before the primary commons college entrance exam.